RULE
GYM TIME.
OWN
CRUNCH TIME.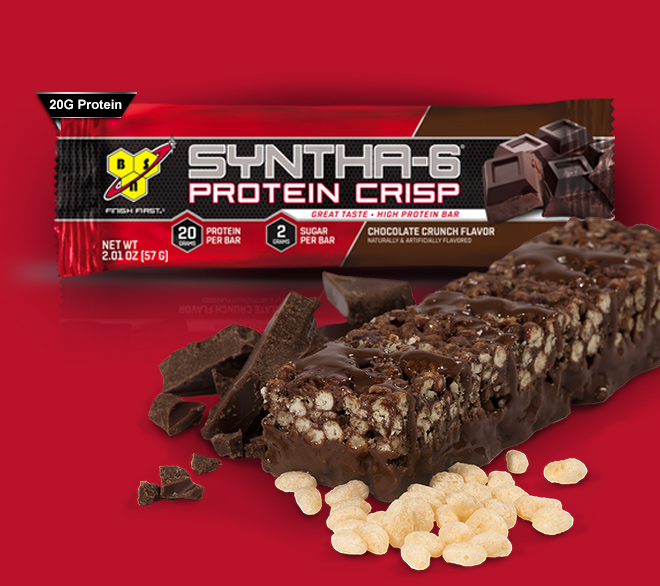 UNAPOLOGETICALLY UNIQUE. INSANELY IRRESISTIBLE.
Busting your ass in the weight room doesn't have to mean punishing your taste buds during recovery. Reward yourself with BSN's new SYNTHA-6® PROTEIN CRISP BAR, a serious combination of incredible taste and unique texture without compromising your macros.
At just 240 calories, each SYNTHA-6 PROTEIN CRISP BAR is loaded with 20g of premium proteins and only 4g of sugar. And with a light, rice-crispy texture filled with the decadent flavor of SYNTHA-6 in each crunch, every day will taste like a cheat day.
Tear into four delicious flavors—Chocolate Crunch, Vanilla Marshmallow, Peanut Butter Crunch and Salted Toffee Pretzel—for an ultra convenient, protein-packed snack between meals, after your workout or whenever you crave a guilt-free bite on the go. You've earned it.
BSN ATHLETE
INDIA PAULINO
IFBB PRO BIKINI COMPETITOR
TEAR INTO FOUR DELICIOUS FLAVORS…
Chocolate Crunch
Bold, rich SYNTHA-6 chocolate flavor and a crave-worthy crunch to drive your taste buds wild with every bite. This is as decadent as it gets.
Peanut Butter Crunch
The irresistibly creamy taste of peanut butter and a satisfying crunch combine for an insanely delicious experience from start to finish.
Vanilla Marshmellow
An indulgent combination of vanilla and marshmallow flavors packed into a light rice-crispy texture for serious satisfaction on the go.
Salted Toffee Pretzel
Rich, caramelized flavor of toffee collides with the savory taste of pretzel to pack a sweet and salty punch in every crunch.
UNIQUE CRISP TEXTURE. DECADENT SYNTHA-6 TASTE.
Light, rice crispy-like texture
Four insanely decadent flavors
20g of Premium Proteins
Only 4g Sugar
240 Calories per bar
BSN ATHLETE
STEPHEN PINTO
FITNESS MODEL