a new look. a new formula. creatine complex with five advanced forms of creatine to fuel muscle growth, increase strength and accelerate recovery*. It's a new age…for a whole new beast.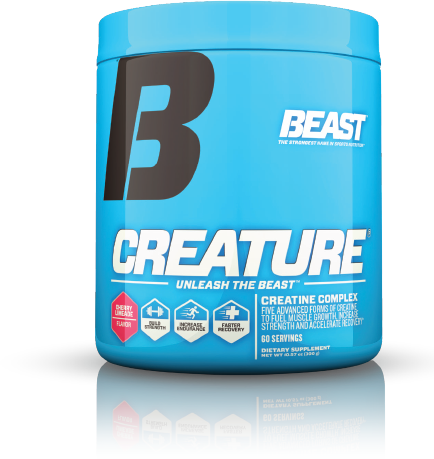 CREATURE®
DEMAND THE PROFESSIONAL-STRENGTH CREATINE COMPLEX THAT USES FIVE OF THE MOST ADVANCED FORMS AVAILABLE TO FUEL MUSCLE GROWTH, INCREASE STRENGTH, AND ACCELERATE RECOVERY.* CHECK OUT THE ALL-NEW CREATURE® —NOW WITH CREA-TRONA®.
FUELS MUSCLE GROWTH*
OPTIMIZES MUSCLE STRENGTH*
STIMULATES LEAN MUSCLE*
ENHANCES ENDURANCE*
ACCELERATES RECOVERY*
THE CREATINE BEHIND CREATURE®
UNLEASH THE BEAST
Creatine fuels intense weight training and endurance activities to push harder, go faster, and recover quicker.* In the process, it stimulates lean muscle mass, acts as a support system to prevent against muscle breakdown, and aids in muscle recovery. Creature® is a blend of five top quality types of creatine.
Creapure® brand Creatine is imported from Germany utilizing a patented manufacturing process, Creatine MagnaPower® is made up of Creatine and Magnesium-bound to form Magnesium Creatine Chelate, Creatine AKG is Creatine-bound to Alpha-Ketoglutaric Acid, and Creatine Anhydrous is Creatine with the water molecule removed.*
The fifth ingredient is our newest addition—Crea-Trona®. This buffered form of creatine delivers a results-inducing ratio of 94% creatine to 6% buffering agent. Alzchem, the German company which also manufactures Creapure®, produces this true molecularly-bonded compound. Combined with the other four complexes, Crea-Trona® helps Creature® truly outperform our competitors.*
Specifically-chosen, our ingredients' purity levels are higher so they absorb into the body quicker. This reduces bloating and intestinal discomfort. As part of the reformulation, Creature® also includes Astragin® and Cinullin® to assure maximum uptake directly to the muscle cells.*
Creature® is a core part of any training program. It keeps athletes of all types fit and strong.
---
CREATURE® IS DESIGNED TO WORK WITH THE ENTIRE BEAST SUPPLEMENT LINEUP. THIS TEAM OF PRODUCTS IS READY TO HELP ANYBODY WHO IS SERIOUS ABOUT GETTING BIG, BEING STRONG, KEEPING FIT AND STAYING HEALTHY.*
---
NUTRITION FACTS
Serving Size  1 Scoop
Servings Per Container  60

---

Amount Per Serving
% DV

---

Calcium
20mg
2%
Calories
10
Total Carbohydrates
2g
1%

---

Creature® Advanced Creatine Matrix
2504 mg
**
   Creapure® brand Creatine Monohydrate,Creatine Magna-Power® brand of Creatine Magnesium Chelate, Creatine Alpha-ketoglutarate 2:1
**
   Creatine Anhydrous, Cinnulin PF® (Cinnamomum burmannii Bark Extract) Containing Type-A Polymers
**
   AstraGin® (Panax notoginseng and Astragalus membranaceus (Root) Extracts)
**

---

** Daily Value (DV) not established.